Regular price
$209.99 USD
Regular price
$319.99 USD
Sale price
$209.99 USD
Unit price
per
Sale
Sold out
Key Features
1080p HD Wired Video Security System with 1TB Pre-Installed Hard Disk Drive (HDD)
1080p HD Wired Indoor/Outdoor Cameras
Enhanced Security and Privacy using 2-Step Verification and Single Sign-On
Human Detection Technology with Facial Capture
Remote Viewing with No Monthly Fees
Real-time Alerts Sent to Your Smart Device
NOTE:

 

The cameras and DVR are specific to the

 

VDP2 and DP2 

series and are not backward compatible with other Night Owl® wired products.
Whats included in the Box

Wired Cameras:

1080p Wired Cameras (4, 6 or 8)
Camera Power Adapters
4-Way Camera Power Splitters (1 per 4 cameras)
60 ft Video/Power Camera Cables (1 per camera)
Mounting Hardware and Screw Packets (1 per camera)


Wired 1080p DVR:

8 Channel 1080p DVR with 1 TB HD
DVR power adapter
6 ft. HDMI cable
RJ-45 Cable
USB Mouse
Support Material & Window Sticker
Indoor/Outdoor Performance

General (Wired DVR)

Operating Temperatures: 32°F to 104°F


General (Wired Camera)

Weather-Resistant Rating: IP-65

Operating Temperatures: -4°F to 140°F
Warranty Details

NIGHT OWL, LLC ("Night Owl") provides the following warranty to the original retail purchaser only (the "Purchaser") with respect to this product (the "Product"): For a period of one (1) year after the date of sale, the Product shall be free from manufacturing defects in material and workmanship.

Additional terms and conditions may be reviewed here.
Share
View full details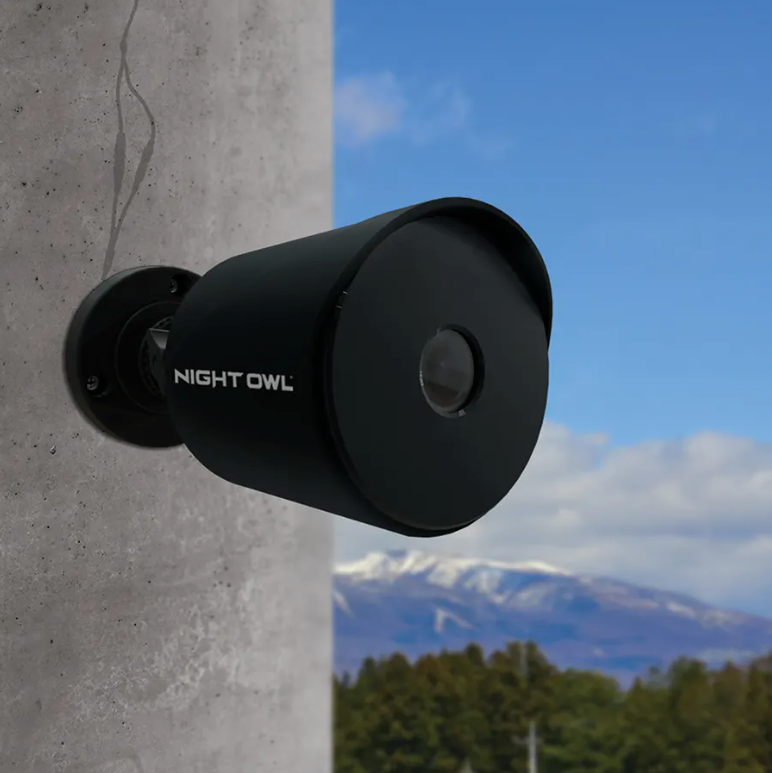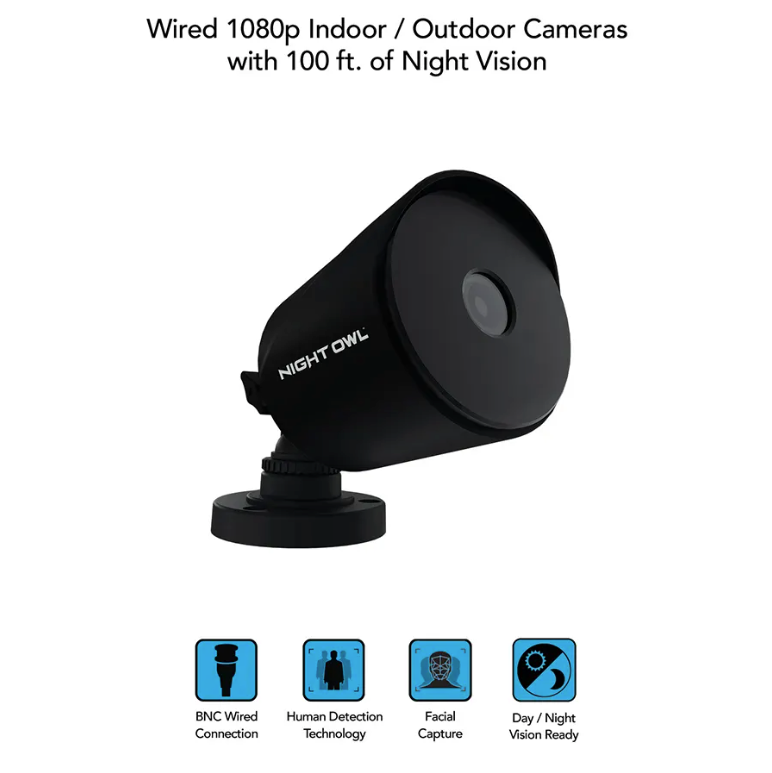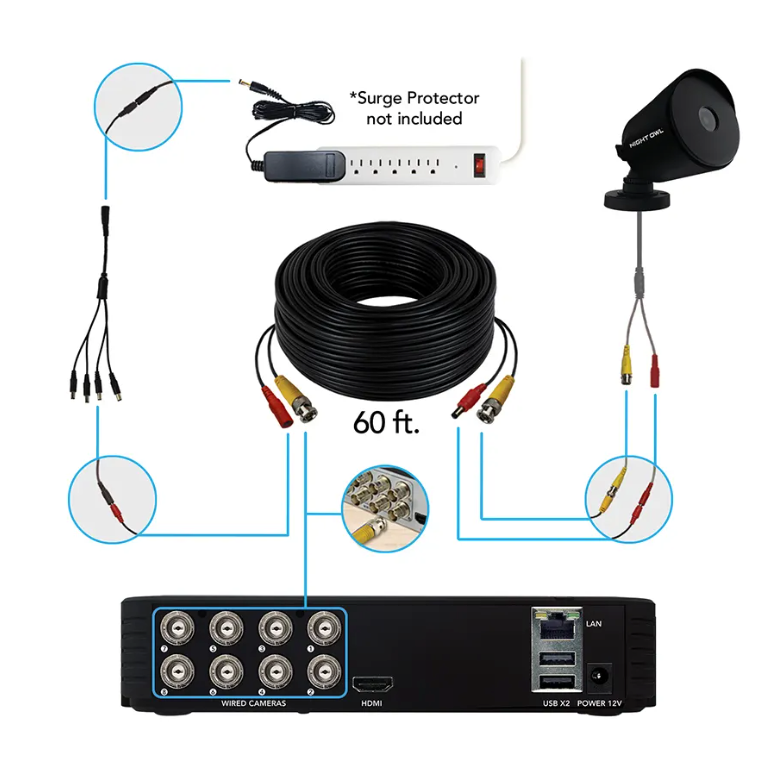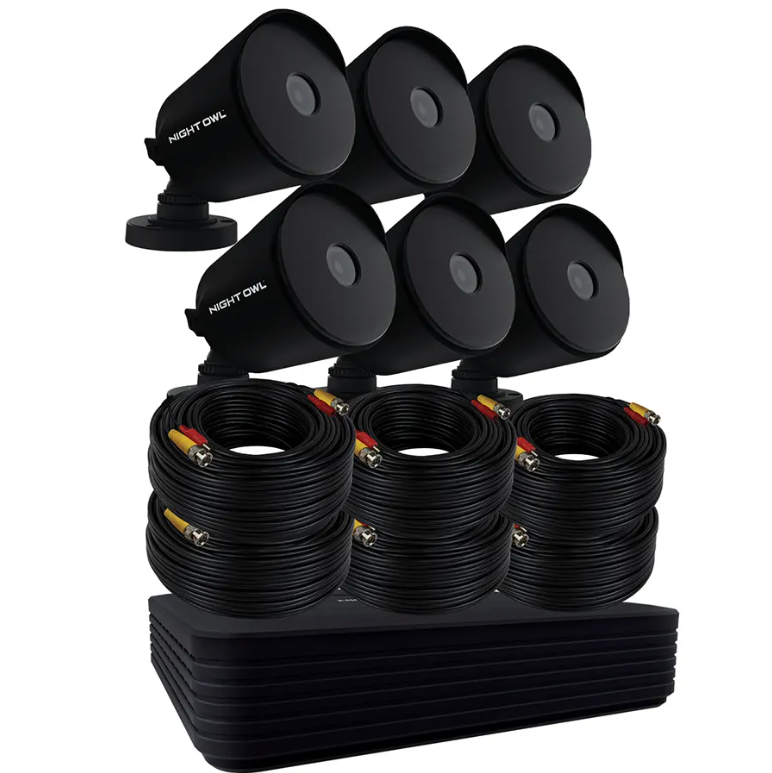 The Night Owl Difference:
Prioritization of your Privacy

Your security camera recordings and data are for your eyes only and are kept secure on the pre-installed hard drive. Additionally, with 2-Step Verification and Single Sign-On we protect your information while making access convenient.
Secure Wired Connection

A hardwired connection feeds the cameras with video signal and power through one cable, allowing the device to keep recording. Internet is not required for viewing, recording or playback from a TV or monitor (CCTV).

Experience uninterrupted viewing and recording without delays
Unlike cloud-based systems, all recordings are safely stored to the hard drive for secure access
Weather-Resistant Cameras

Your cameras come with indoor / outdoor housing, which means you can safely monitor inside and outside your home or business.

Cameras can withstand minimal moisture and dirt debris, while providing the coverage you need
Durable, weather-resistant construction ensures long-lasting use (placing the camera under an eave, for outdoor usage, is recommended)
Human Detection Technology with Facial Capture

Instantly receive Human Detection and Facial Capture Alerts to your mobile device so you can better distinguish criminal activity from normal occurrences while saving hard drive space.

Record and flag events for quick and easy access
Quickly determine if you see someone familiar or not with our Facial Capture Alerts
Easily search your recordings by filtering to find what, when and where an event occurred
No Monthly Fees

All recordings are stored locally on the pre-installed 2TB hard drive to safeguard your privacy. No hidden costs or subscription fees. *Optional cloud backup storage available.
Free Night Owl mobile app

Monitor and manage your security system in real-time from your mobile device.
Sharp 1080p HD Resolution for Clear Recording

Enjoy crystal clear recordings with your 1080p HD cameras. Take a closer look from your monitor and capture intricate details that lower resolution cameras might not catch.

High-quality, true-to-life, 1080p High Definition (HD) video resolution with 2MP
Produces clear and detailed images that you must see to believe
System Overview
Proudly American, Night Owl® is excited to offer our U.S. designed and engineered 1080p HD wired DVR that, when used with compatible cameras, features Human Detection Technology and Unique Enhanced Security. Human Detection reduces false alerts to your Smart Device, while Facial Capture takes a snapshot of a person's face and sends you a real-time alert. New to video security systems, 2-Step Verification and Single Sign-On prevent unverified access to your device, enhancing your security and privacy. How about security for your security? This DVR is the first of its kind to use Anti-Theft Technology to send real-time alerts if it's moved, so you're always in the know. There are no fees for storage. Keep everything on the pre-installed hard disk drive (HDD) (not included with all models) or install your own HDD up to 10TB. You own your recordings!

Night Owl's wired technology uses a secure hardwired connection for real Closed-Circuit Video Security (CCTV). A wired connection delivers uninterrupted viewing and recording with no delays, providing you with true around the clock protection. Our free remote viewing app for iOS® and Android™ Smart Devices keeps you connected and provides easy access to your recordings.
Unique Enhanced Security
Enhanced security features, unique to video security systems, protect your privacy, data, and DVR. Single Sign-On prevents login credentials from being compromised. The 2-Step Verification feature uses multiple authentication steps to help keep the bad guys out. Anti-Theft Technology sends real-time alerts to your Smart Device if the DVR is moved. Pre-installed HDD for local storage, 24/7 recording with no fees, and automatic overwrite (not included with all models) or install your own up to 10TB. Finally, the Internet is only required for remote viewing and receiving alerts to a Smart Device.
Free App with Real-time Notifications, No Fees! (Requires Compatible Cameras - Sold Separately)
Keep an eye on your world from anywhere in the world. Night Owl® makes remote viewing easy, and there are no monthly fees. We have free Night Owl® apps for iOS® and Android™ Smart Devices. Our Human Detection Technology uses advanced algorithms to focus on human movement and sends real-time alerts notifying you immediately (requires compatible cameras). Facial Capture sends a real-time alert to your Smart Device so you can quickly decide if it is a familiar or unfamiliar face (requires compatible cameras). View, playback, save, and share videos and images from each motion detection security camera on your Smart Device.
1080p HD Wired Cameras with Color Night Vision
See intricate details with clarity and precision each 1080p High Definition motion sensor security camera provides. Color Night Vision with L2 Color Boost® Technology captures full-color video in low-light settings, only switching to Night Vision if necessary. When the light fades to darkness, the motion sensor camera continues recording in black and white Night Vision with up to 100 ft. of visibility. A wide viewing angle provides more coverage and ensures sharp focus on the details. Cameras are weather-resistant to withstand moisture and dirt debris (placing the camera under an eave is recommended).
Designed and Engineered in the USA

At Night Owl®, all our products are proudly designed and engineered in the United States by skilled personnel, so we can make your privacy and security our top priority.

Night Owl® is U.S. based, U.S. owned, subject to all U.S. laws and takes a firm stance on ensuring consumer privacy
True American ingenuity, right here on American soil. Our U.S. based engineering team works tirelessly to design products that provide security and protect your privacy.

National Security Compliant

Night Owl® is in compliance with the U.S. government's stance on protecting our nation per Section 889 of the National Defense Authorization Act (NDAA).

Unlike other brands, Night Owl® product does not contain any essential components from specific banned China-based companies
We are proudly compliant with the new FCC Covered List and strongly believe in the importance of protecting Human Rights and the national security of the U.S.A.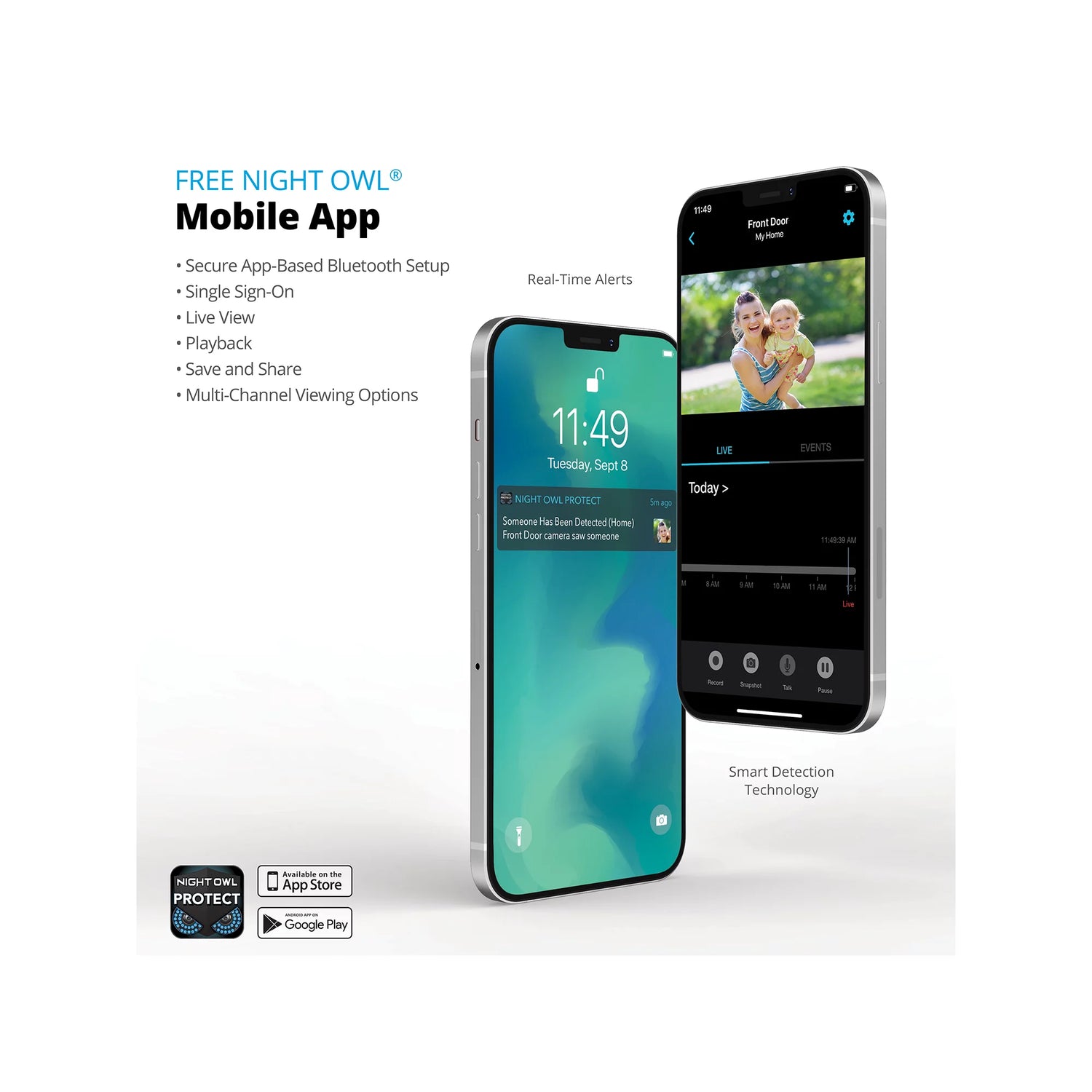 Free Mobile App with Real-time Alerts
Our app lets you remotely monitor your home or business in real-time from anywhere. Remote connectivity functions are compatible with Windows, Mac OS X, Android, and iOS, which means you can stay connected no matter what device you use.
Secure App-Based Bluetooth® Setup
2-Step Verification safeguards your privacy by requiring two authentication steps for login and secure password resets
Single Sign-On lets you conveniently and securely access your devices with one set of login credentials
Receive real-time mobile alerts when a human or vehicle is detected
Easily live view, playback, save and share footage with multi-channel viewing options right from your Smart Device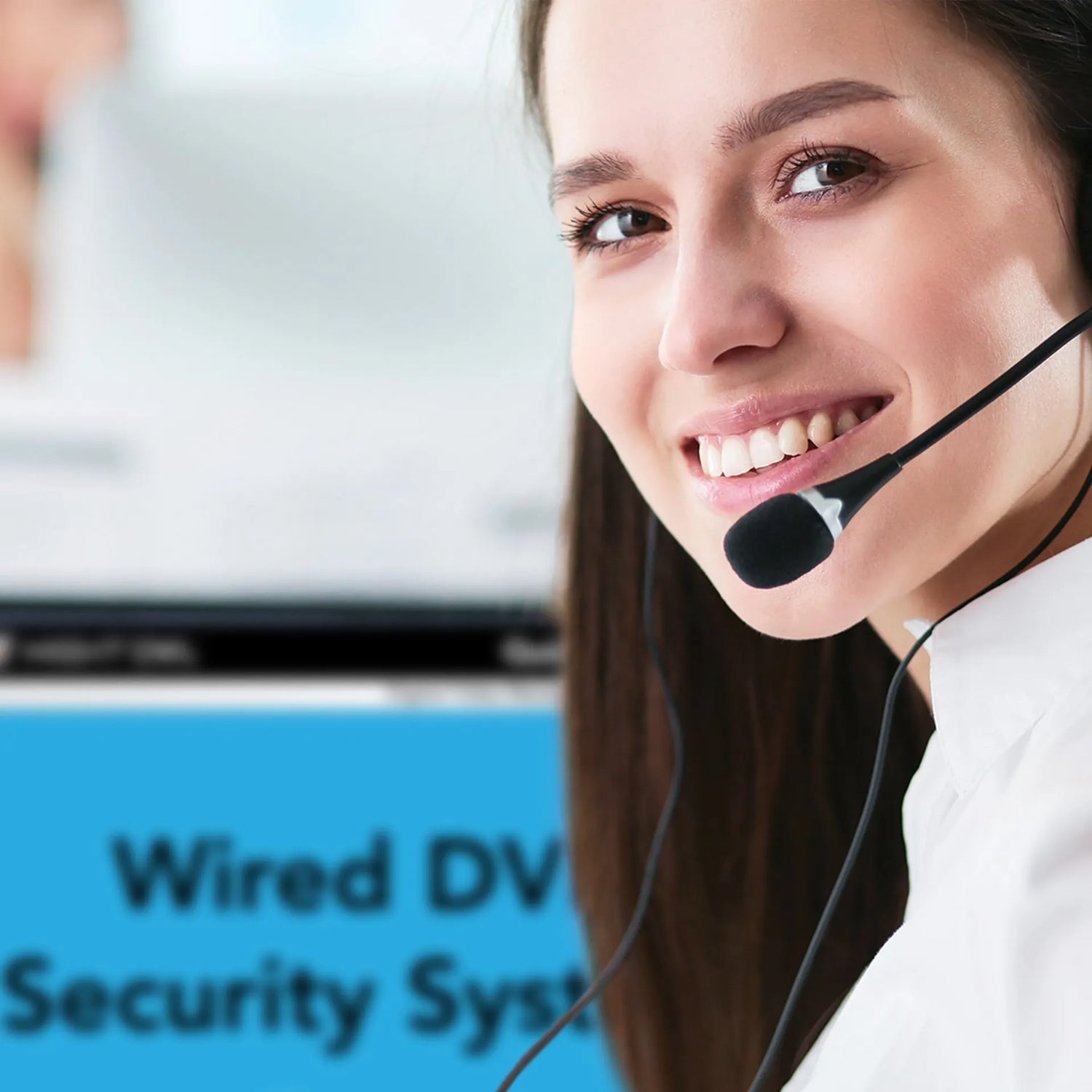 On-Demand Support
Night Owl® offers free 24/7 technical support through our extensive online help library. Additionally, we have an online chat system and phone support in both English and Spanish.
Our online support site is available 24/7,
365 days a year
Free live chat and phone support.
We're here for you!
Footnotes - VDP2
(1) Internet and Smart Device access requires a router and High-Speed Internet connection with a minimum 3 Mbps upload speed. If your DVR is not connected to the Internet, you will not be able to remotely view your system on your Smart Device. May require a free firmware update.

(2) The DVR and Push Alerts are currently accessible on iPhone®, iPad®, and AndroidTM running on 4G/5G Smart Devices. Night Owl® doesn't charge monthly fees to view or control your DVR over the Internet and/or Smart Device. Carrier fees and charges may apply.

(3) Night Owl® Apps are free downloads compatible with Apple® and Android™ devices only. Compatibility at the time of manufacturing. Future Android™ and iOS® updates may affect the App experience.

(4) Night Vision range up to 100 ft. under ideal conditions. Objects at or beyond this range may be partially or completely obscured, depending on the camera position.

(5) Recording capacity may vary. The size of your pre-installed hard drive will affect recording capabilities. Optimal recording based on using the lowest recording quality settings with one camera.

(6) Video streaming may be subject to interruptions or failures for reasons beyond Night Owl's control, such as intermittent Wi-Fi or service provider outages. All features require ideal conditions and the latest firmware updates to provide accurate results.

(7) Night Owl® does not provide third-party monitored emergency notification or response.

(8) Human Detection Technology is only compatible with select models. Please refer to NightOwlSP.com for more information regarding compatibility.

(9) The following items are not included and are only for demonstration: TV's, Monitors, Routers, Phones, Tablets, Smart Devices, and any item not specifically listed as included.

(10) The term "Recorder" may refer to a DVR, NVR, Wi-Fi NVR, or any similar recording device.
(11) For more information on Section 889 of the National Defense Authorization Act (NDAA) please go to the U.S. government's webpage www.federalregister.gov.
*Source: The NPD Group, Inc., Retail Tracking Service, U.S., Security Cameras, Camera Connection Type: Wired Only, Based on unit sales, January 2018 - November 2021 Combined
Disclaimer
Certain uses, publication and/or distribution of video/audio recordings from security cameras and/or audio devices are prohibited or restricted by federal, state and local laws. When enabling and/or using audio recording features with your hidden security camera, be sure to comply with the laws in your country, state, and locality. iOS is a trademark or registered trademark of Cisco in the U.S. and other countries and is used under license. iPhone, iPad, Mac and Mac OS X are registered trademarks of Apple Inc. Windows 7, Windows 8 and Windows 10 are registered trademarks of Microsoft Corporation in the United States and/or other countries. Google, Google Home, Chromecast and related marks and logos are trademarks of Google LLC. 
ATTN CA RESIDENTS:
WARNING: This product can expose you to Polybrominated biphenyls, which is known to the State of California to cause Cancer and birth defects or other reproductive harm. For more information go to www.p65warnings.ca.gov