Regular price
$119.99 USD
Regular price
Sale price
$119.99 USD
Unit price
per
Sale
Sold out
Key Features
Battery-Powered Security Camera for Wire Free Flexibility:

 

This camera is battery operated, so there's no need for rewiring or disguising a conspicuous cord.
Hassle-Free Charging Options:

 

The camera includes 2 rechargeable batteries and can hold up to 4 that can be conveniently charged while the camera remains mounted.
2-Way Audio Communication:

 

Speak and listen remotely through your camera with the Night Owl® app.
Motion-Activated Spotlight:

 

The bright spotlight in this indoor/outdoor security camera automatically switches on when the camera detects human motion. You are notified immediately with a real-time alert to your Smart Device when human motion occurs.
Night Vision:

 

Keep an eye on your property at all hours with up to 40 ft. of Night Vision. This camera records in full-color during the day and black and white at night for 24/7 monitoring.
High-Quality 1080p Resolution:

 

Monitor your property with sharp 1080p video resolution. Enjoy detailed video, bright playback, crisp photos, and real-time footage.
No Monthly Fees:

 

The compatible Wi-Fi NVR required to use this add-on battery-powered security camera includes free remote viewing, with no need for monthly service or offsite storage fees.
Engineered in the USA:

 

All our products are designed and engineered in the United States.
Add-On Camera:

 

This camera is not for stand-alone use. It must be used with a compatible Night Owl® WNIP2 Series Wi-Fi NVR — sold separately.

NOTE

: You can add up to a MAX of 4 wire free cameras to our WNIP2 Series Wi-Fi NVR.
Whats included in the Box

Add-on Wire Free Camera:

1080p Wire Free Spotlight Camera
2x 18650 ~2600AH Lithium Ion Batteries (Camera included 2 & holds up to 4)
Type-C USB Cable
Mounting Hardware and Screw Packets
Indoor/Outdoor Performance

General (Wired Camera)

Weather-Resistant Rating: IP-65

Operating Temperatures: -4°F to 122°F
Warranty Details

NIGHT OWL, LLC ("Night Owl") provides the following warranty to the original retail purchaser only (the "Purchaser") with respect to this product (the "Product"): For a period of one (1) year after the date of sale, the Product shall be free from manufacturing defects in material and workmanship.

Additional terms and conditions may be reviewed here.
Share
View full details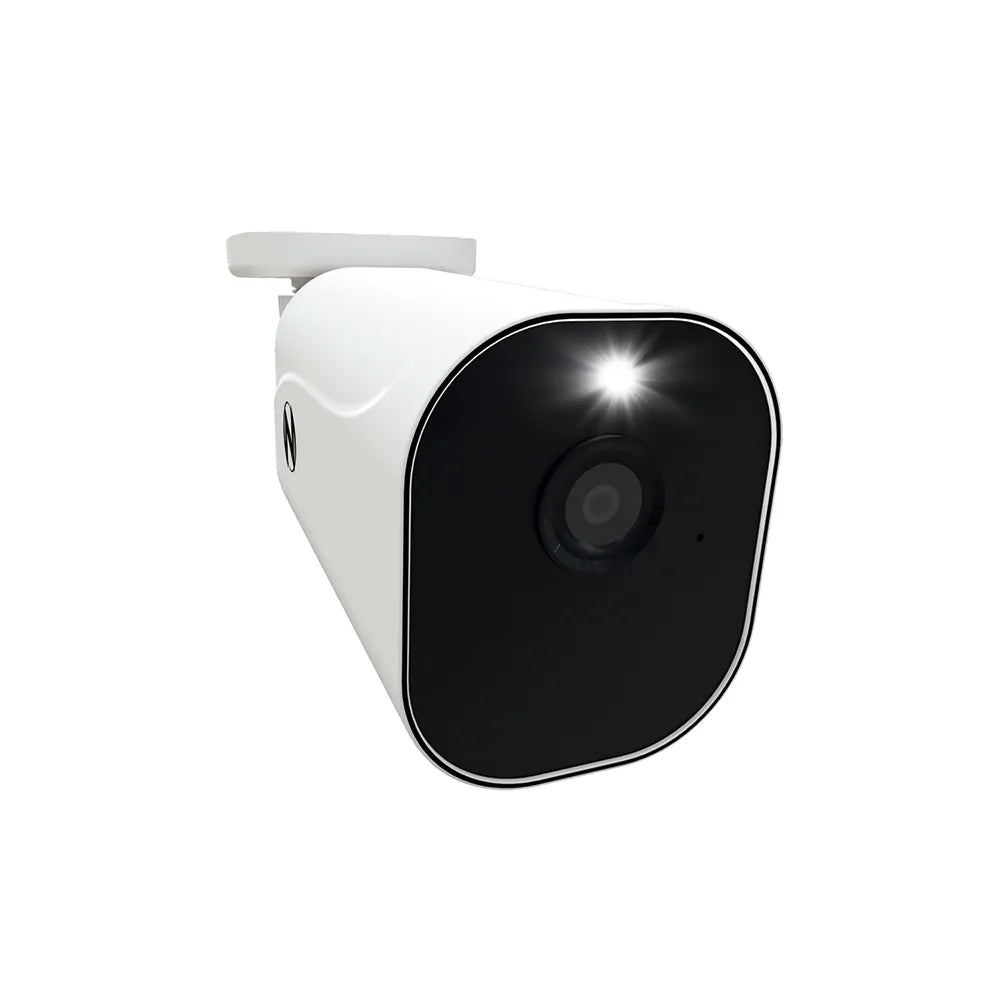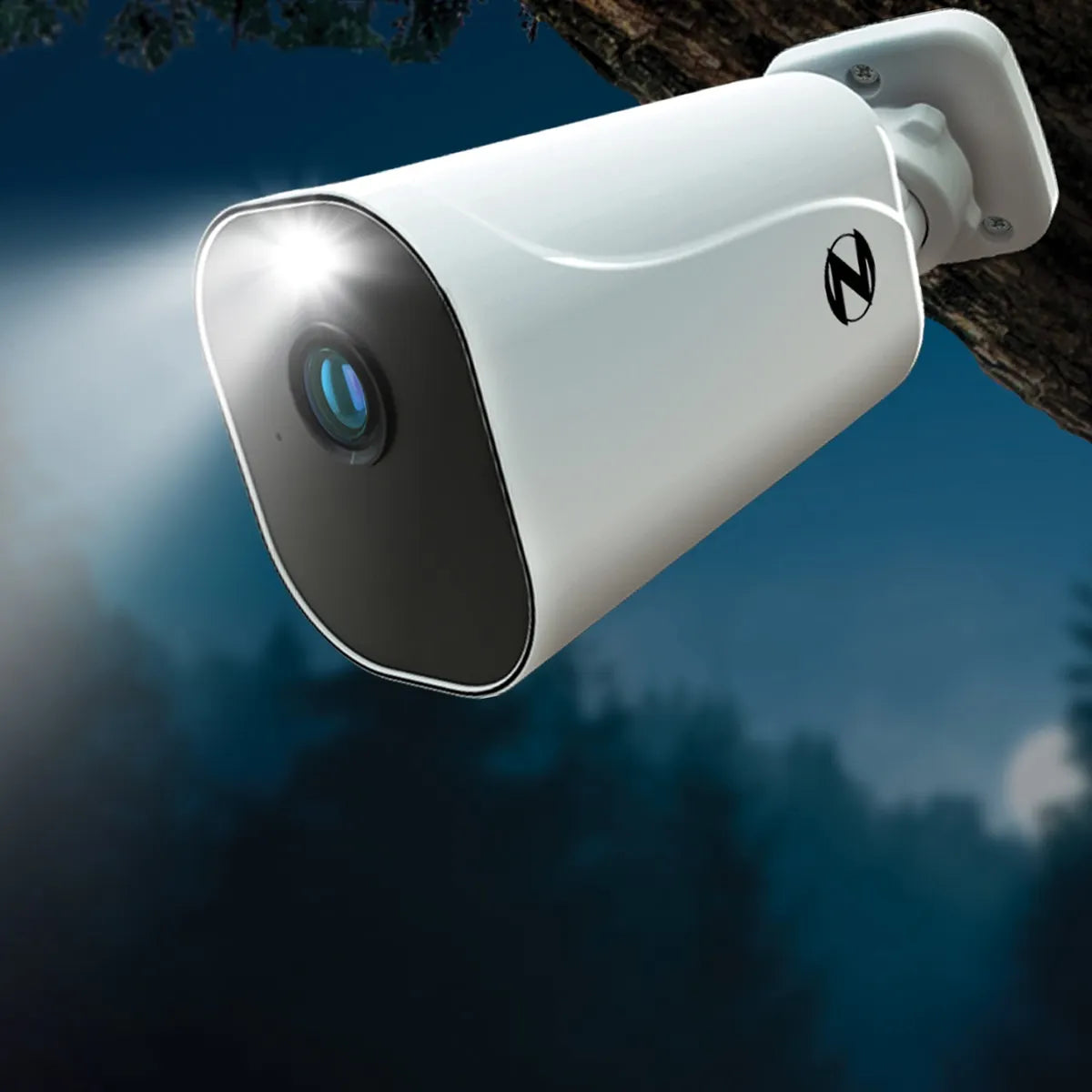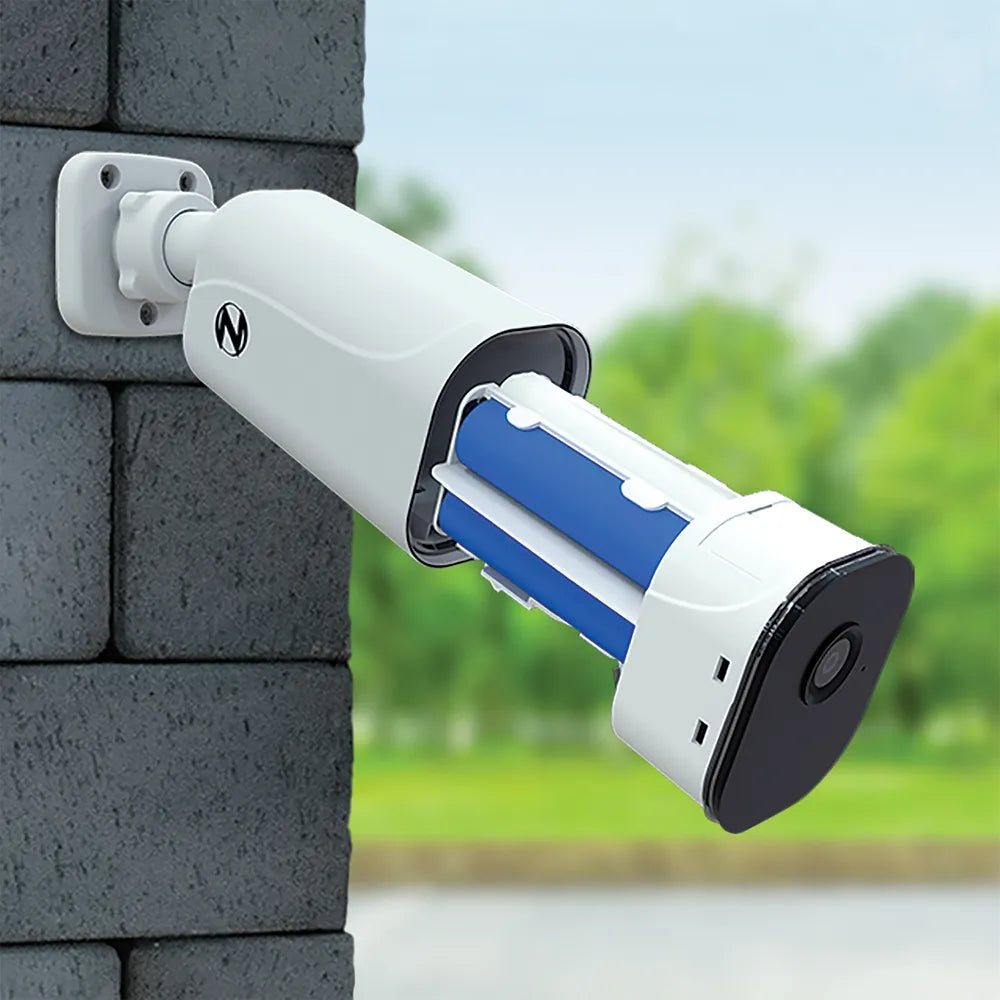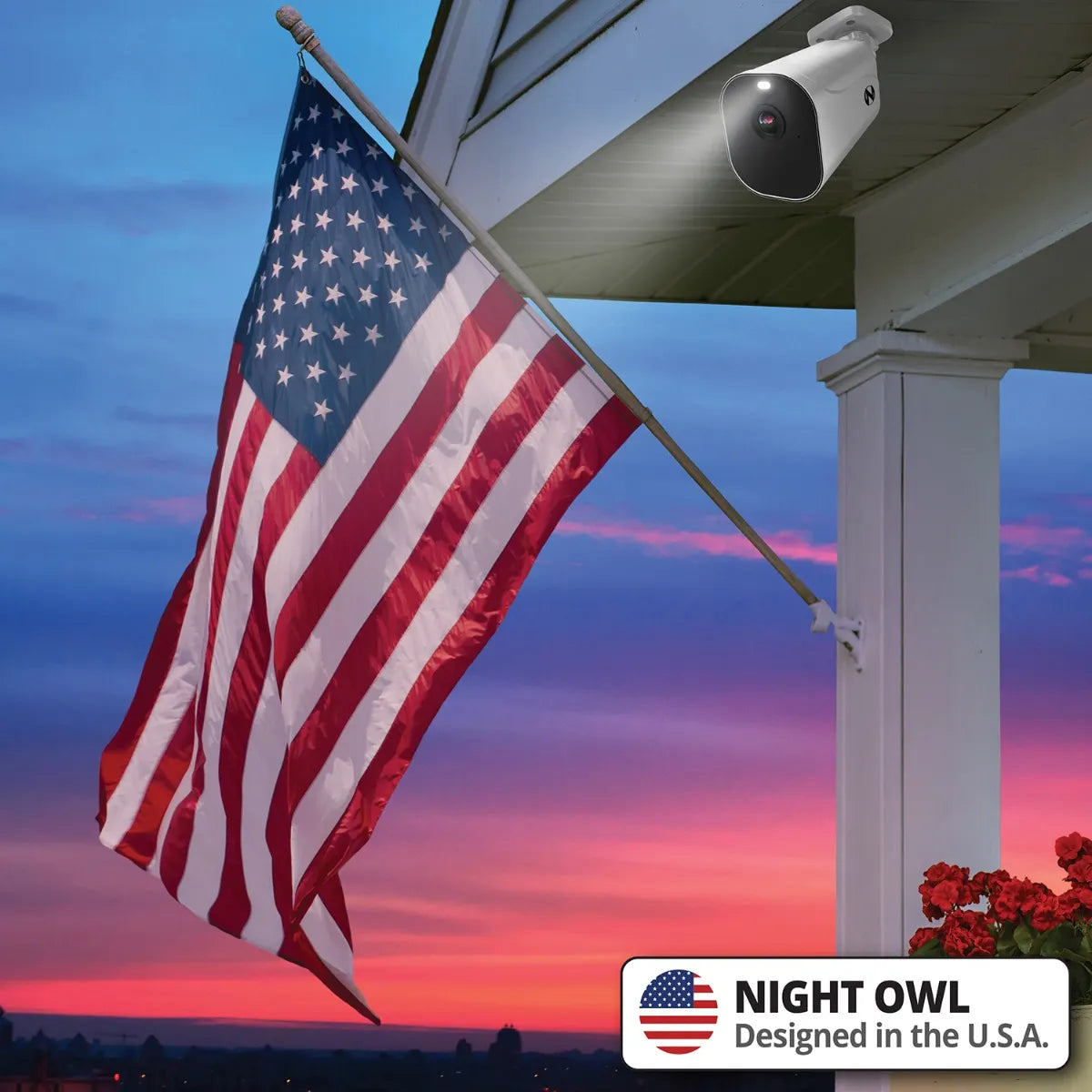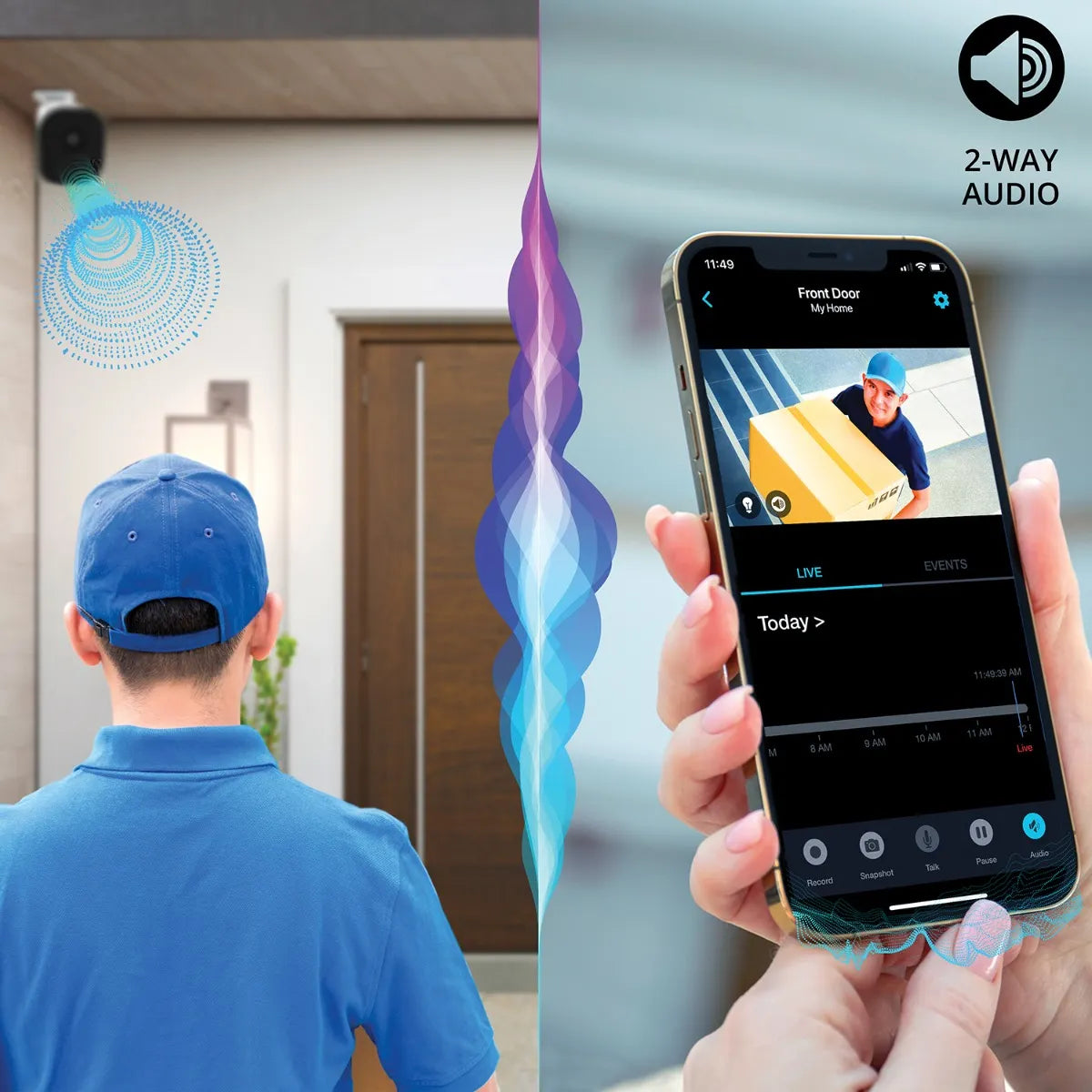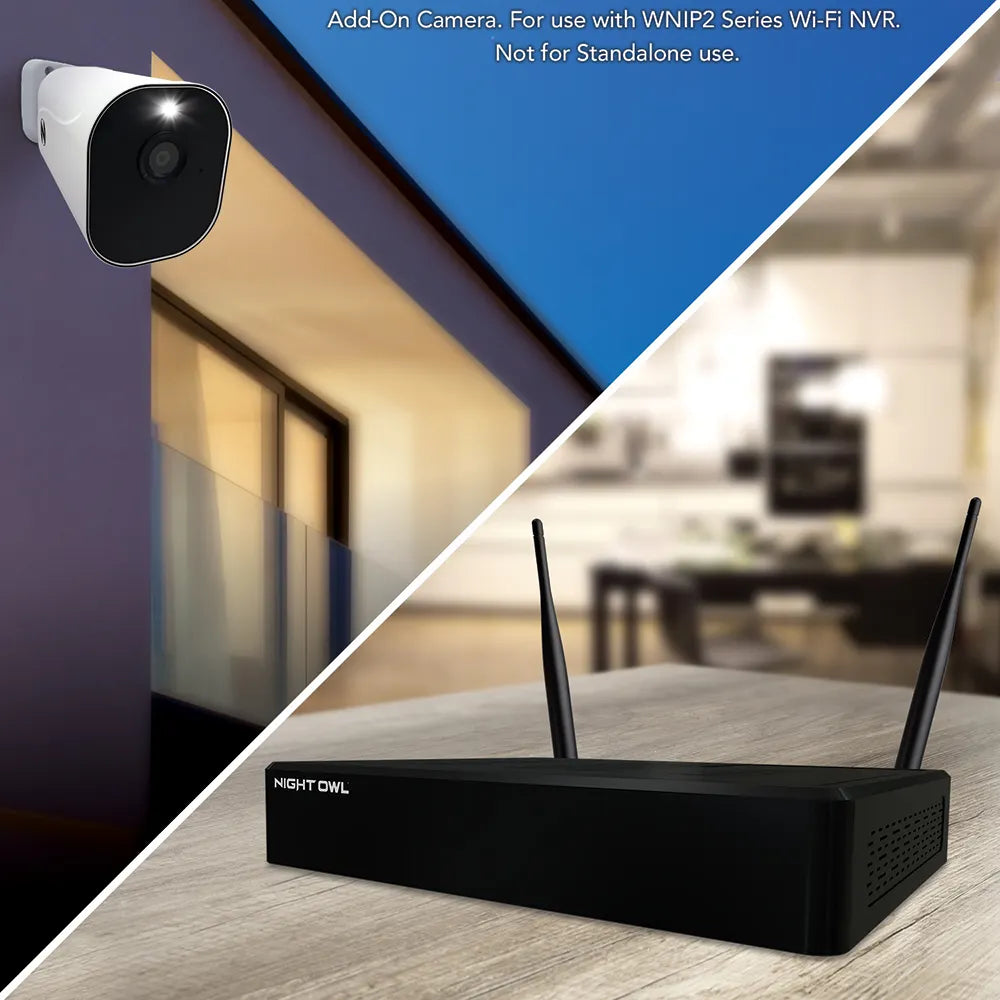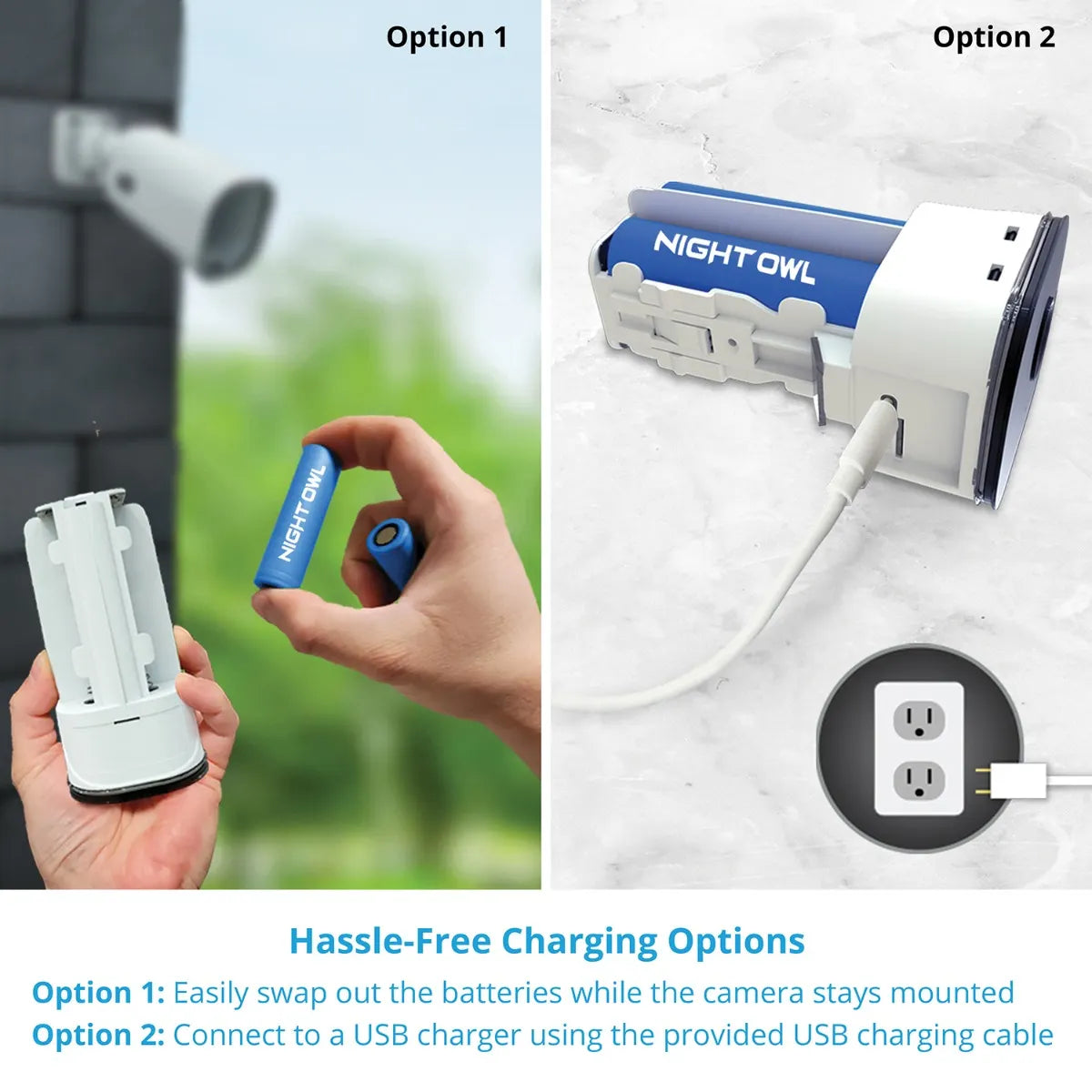 The Night Owl Difference:
Prioritization of your Privacy

Your security camera recordings and data are for your eyes only and are kept secure on the pre-installed hard drive. Additionally, with 2-Step Verification and Single Sign-On we protect your information while making access convenient.
Weather-Resistant Cameras

Your cameras come with indoor / outdoor housing, which means you can safely monitor inside and outside your home or business.

Cameras can withstand minimal moisture and dirt debris, while providing the coverage you need
Durable, weather-resistant construction ensures long-lasting use (placing the camera under an eave, for outdoor usage, is recommended)
Built-in Spotlights

Your wired cameras include built-in spotlights which turn on when a human or face is detected to deter burglars and vandals.

Spotlights power on automatically when human motion is detected
Bright lights illuminate the area which startles trespassers
Continue viewing and recording in dark conditions with up to 100 ft. of Night Vision
No Monthly Fees

All recordings are stored locally on the pre-installed 2TB hard drive to safeguard your privacy. No hidden costs or subscription fees. *Optional cloud backup storage available.
Free Night Owl mobile app

Monitor and manage your security system in real-time from your mobile device.
Sharp 1080p HD Resolution for Clear Recording

Enjoy crystal clear recordings with your 1080p HD cameras. Take a closer look from your monitor and capture intricate details that lower resolution cameras might not catch.

High-quality, true-to-life, 1080p High Definition (HD) video resolution with 2MP
Produces clear and detailed images that you must see to believe
Camera Overview
The add-on battery-powered security camera works hand in hand with your existing compatible Night Owl® Wi-Fi NVR system using U.S. designed and engineered technologies you can trust. This camera allows you to expand your security coverage, since you can place it in more areas throughout your home to cover every angle.
Our system runs on its own wireless network, which can be connected to any 1080p TV monitor for easy viewing. For remote viewing on a Smart Device, the system must be connected to your home network using the provided Ethernet cable.
Together with your existing compatible system, this is one of the best wire free security cameras that offers everything you need to boost your security and fully protect your home and belongings — without the hassle of rewiring your home or paying costly membership fees. With remote viewing, pre-installed storage, and powerful security features, you'll have peace of mind no matter how far you are from home. Night Owl® has your back.
Add-On Camera
Take your Night Owl® WNIP2 Series Wi-Fi NVR to the next level with the addition of our battery-operated security camera. Pairing the 1080p Wire Free Security Camera with your existing system allows for added monitoring. Eliminate potential security blind spots by placing this add-on wire free security camera in places that are not covered by the compatible system.
This battery-operated camera is free of wires, making it easier to place throughout your home. It offers features to enhance your safety, including a Built-in Motion-Activated Spotlight and Night Vision.
Monitor more of your home and property by adding this easy-to-use camera to your compatible system. Simply place your add-on camera within range of the Wi-Fi NVR without the hassle of connecting additional cables. The rechargeable batteries keep your camera running continuously, so you will not lose coverage in any part of your home.
Wire Free Security Solution
Like the cameras that come with the Night Owl® Wire Free Smart Security System, this add-on camera is battery-operated and offers secure recording and easy connection. It works with the independent, secure wireless network to provide real closed-circuit video security (CCTV) with uninterrupted viewing and recording.
This add-on camera requires 2 batteries to function but can hold up to 4. Unlike other brands whose batteries have a 60-day charge, 2 Night Owl® batteries will provide up to 6 months of battery life and 4 batteries will provide up to 1 year, though battery life is impacted by the level of activity that the camera monitors. If your camera's batteries are running low, you'll get an app alert right away.
The wire free camera is easy to mount and can be moved anywhere, barring physical barriers to Wi-Fi connectivity — no need to run wires or install near existing wiring systems. With indoor/outdoor functionality and flexible placement, this camera offers security anywhere you need it. Opting for the add-on camera lets you expand your range of security by having cameras in more locations.
Hassle-Free Charging Options
Keeping your wire free battery security camera charged has never been easier. Each camera comes with 2 rechargeable batteries but can hold 4 total batteries, giving you up to 1 year of battery life. Additional batteries can be purchased on the Night Owl® website. Unlike other brands, you don't have to uninstall the camera to recharge it. There are 2 easy ways to recharge your batteries:
Option 1 – Never miss a beat! Easily swap out the batteries, while the camera stays mounted. Charge the dead batteries using the Night Owl Charger (sold separately).
Option 2 – Still no need to uninstall the camera. Leave it mounted and press the cartridge release button. Once removed, simply connect it to a USB charger using the provided USB cable.
*Optional microSD Card Slot for Backup Image Capture (install microSD Card up to a maximum of 128GB -microSD Card Sold Separately)
Advanced Motion Detection
Stop trespassers in their tracks with advanced motion-detection technology. This battery-powered security camera, which works with your existing compatible Night Owl® Wi-Fi NVR system, includes a bright white spotlight that activates when human motion is detected.
Human Detection Technology and Facial Capture work together to search for human movement and send real-time alerts to your Smart Device. You can quickly determine if a threat has been detected or if it is someone you know, all while saving valuable hard drive space.
The add-on camera also uses passive infrared sensor (PIR) technology to automatically detect both heat and motion, minimizing up to 90% of false alerts. The moment the camera detects heat and motion in your selected zone, it will work with your compatible Wi-Fi NVR system to send an alert to your smartphone or tablet.
Safe 2-Way Communication
Have a say in what's happening on your property from a safe distance using 2-way audio communication when you add this camera to your Night Owl® Wi-Fi NVR (WNIP2 Series).
Each camera is equipped with 2-way audio capabilities, allowing you to hear and record sounds as well as speak directly through the camera. Communicate with anyone on your property from any Smart Device using the Night Owl® app's microphone feature.
Sharp 1080p Resolution
In addition to high-quality, true-to-life 1080p video resolution, the camera has a Night Vision range of up to 40 ft., so you'll never be vulnerable in dark conditions.
The camera provides extensive visual coverage of your home or business, while the Wi-Fi NVR's built-in secure Wi-Fi network allows for smooth video transmission with no interruptions or delays.
Designed and Engineered in the USA

At Night Owl®, all our products are proudly designed and engineered in the United States by skilled personnel, so we can make your privacy and security our top priority.

Night Owl® is U.S. based, U.S. owned, subject to all U.S. laws and takes a firm stance on ensuring consumer privacy
True American ingenuity, right here on American soil. Our U.S. based engineering team works tirelessly to design products that provide security and protect your privacy.

National Security Compliant

Night Owl® is in compliance with the U.S. government's stance on protecting our nation per Section 889 of the National Defense Authorization Act (NDAA).

Unlike other brands, Night Owl® product does not contain any essential components from specific banned China-based companies
We are proudly compliant with the new FCC Covered List and strongly believe in the importance of protecting Human Rights and the national security of the U.S.A.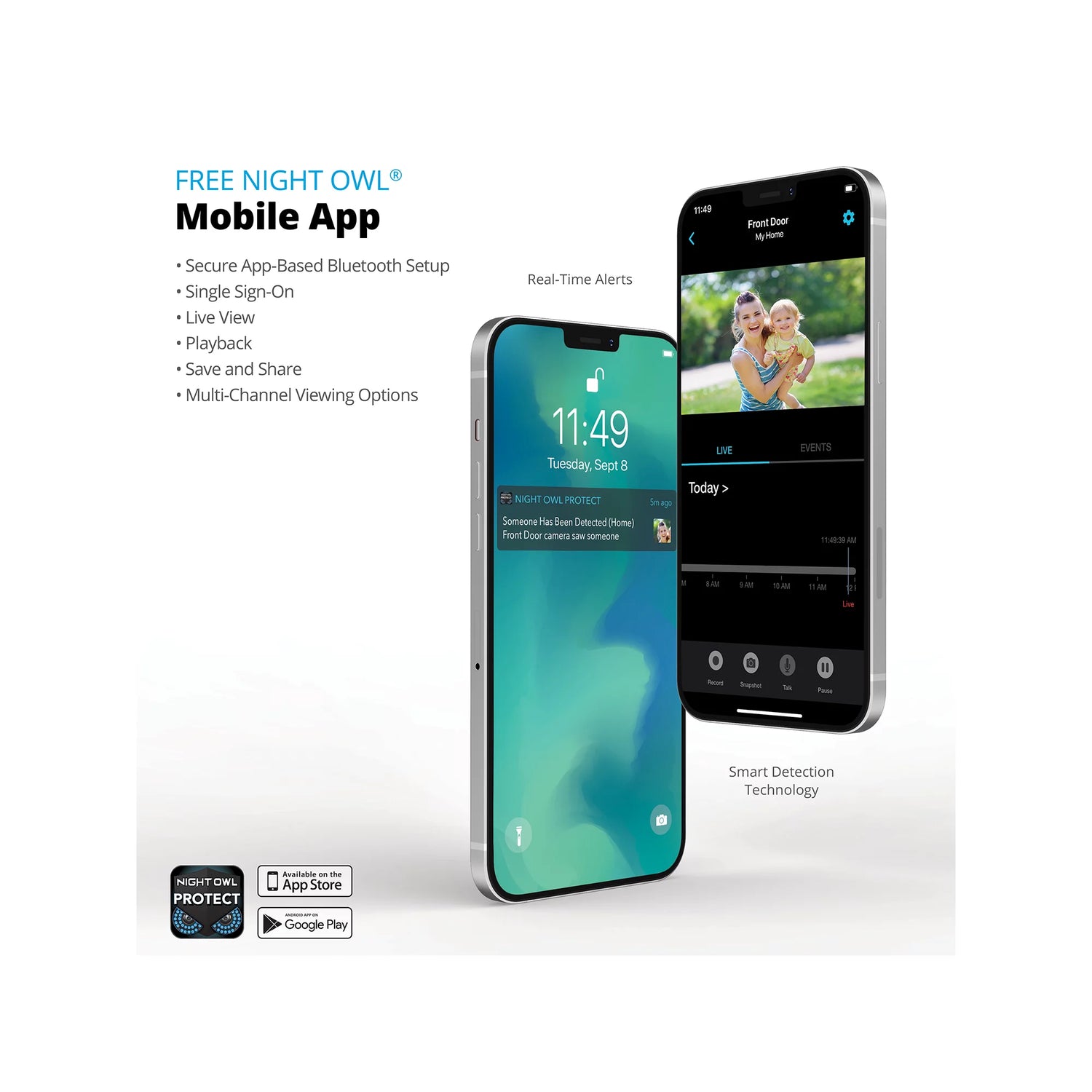 Free Mobile App with Real-time Alerts
Our app lets you remotely monitor your home or business in real-time from anywhere. Remote connectivity functions are compatible with Windows, Mac OS X, Android, and iOS, which means you can stay connected no matter what device you use.
Secure App-Based Bluetooth® Setup
2-Step Verification safeguards your privacy by requiring two authentication steps for login and secure password resets
Single Sign-On lets you conveniently and securely access your devices with one set of login credentials
Receive real-time mobile alerts when a human or vehicle is detected
Easily live view, playback, save and share footage with multi-channel viewing options right from your Smart Device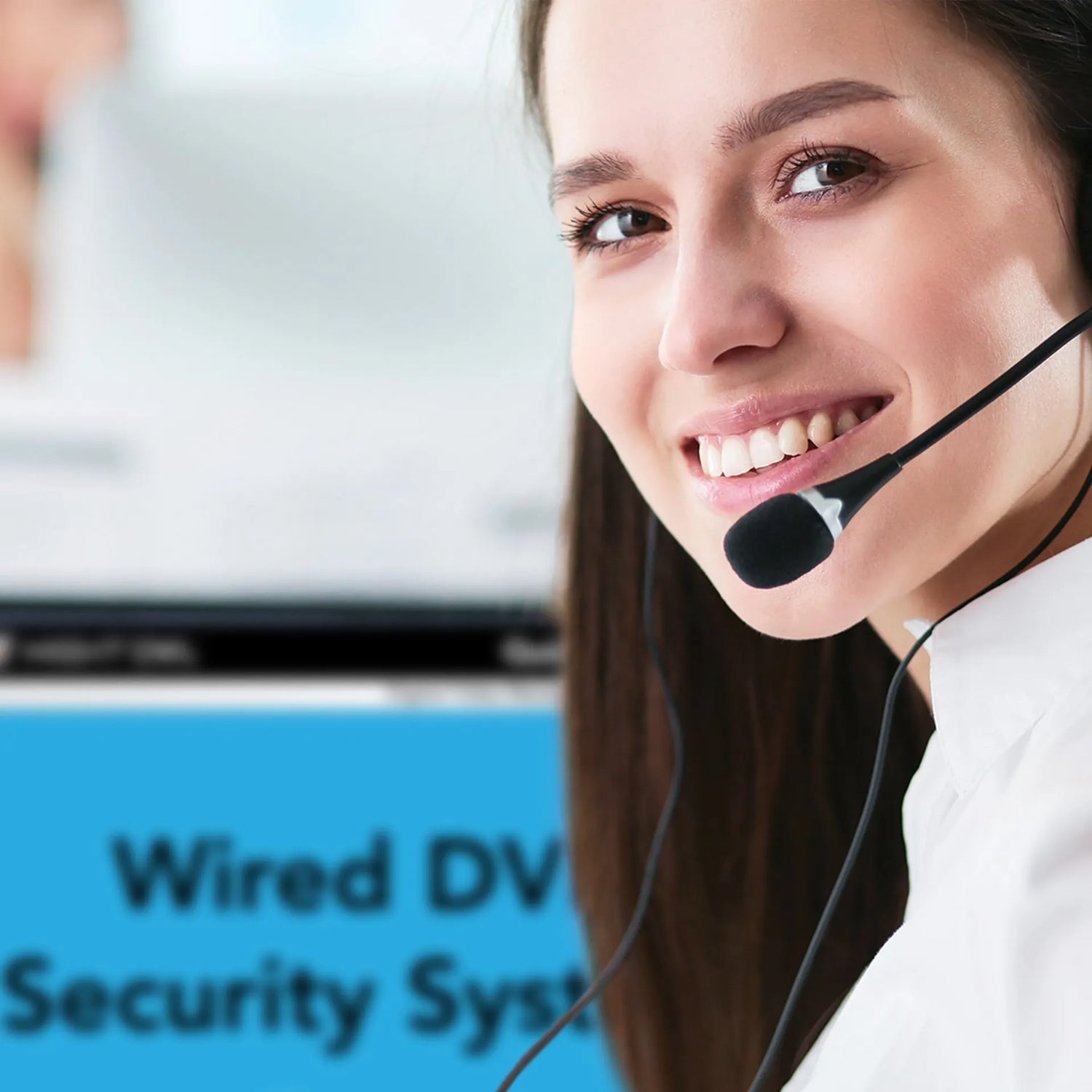 On-Demand Support
Night Owl® offers free 24/7 technical support through our extensive online help library. Additionally, we have an online chat system and phone support in both English and Spanish.
Our online support site is available 24/7,
365 days a year
Free live chat and phone support.
We're here for you!
Footnotes - BWNIP2
(1) Do not recommend using this camera in temperatures below -4°F or above -122°F. This camera is weather-resistant, not waterproof. Not for use in direct exposure to water.

(2) Night Vision range up to 40 ft. under ideal conditions. Objects at or beyond this range may be partially or completely obscured, depending on the camera position.

(3) Camera does not work independently and must be connected to our WNIP2 Series Wi-Fi NVR. This is NOT a standalone camera. Please refer to NightOwlSP.com for more information on compatibility.

(4) 300 ft. wireless range when camera is within direct sight of the Wi-Fi NVR with no obstructions.

(5) This camera is 2-way audio enabled with talk and listen functionality.

(6) Video streaming may be subject to interruptions or failures for reasons beyond Night Owl's control, such as intermittent Wi-Fi or service provider outages. All features require ideal conditions and the latest firmware updates to provide accurate results.

(7) Night Owl® does not provide third-party monitored emergency notification or response.

(8) The following items are not included and are only for demonstration: TVs, Monitors, Routers, Phones, Tablets, Smart Devices, and any item not specifically listed as included.

(9) Images may vary.

(10) Battery life is not guaranteed and is dependent on the camera's environment.

(11) Use of 3rd party batteries with Night Owl's BWNIP2 series may damage the camera and void your warranty. Compatible batteries can be purchased at NightOwlSP.com.
Disclaimer
Certain uses, publication and/or distribution of video/audio recordings from security cameras and/or audio devices are prohibited or restricted by federal, state and local laws. When enabling and/or using audio recording features with your hidden security camera, be sure to comply with the laws in your country, state, and locality. iOS is a trademark or registered trademark of Cisco in the U.S. and other countries and is used under license. iPhone, iPad, Mac and Mac OS X are registered trademarks of Apple Inc. Windows 7, Windows 8 and Windows 10 are registered trademarks of Microsoft Corporation in the United States and/or other countries. Google, Google Home, Chromecast and related marks and logos are trademarks of Google LLC. 
ATTN CA RESIDENTS:
WARNING: This product can expose you to Polybrominated biphenyls, which is known to the State of California to cause Cancer and birth defects or other reproductive harm. For more information go to www.p65warnings.ca.gov